Recently, City of Stonnington started to exhibit planning scheme amendment – C296ston which seeks to introduce a Development Contribution Plan (DCP) to the Stonnington Planning Scheme. The amendment will require all land owners who are seeking to utilise their property's development potential to provide a monetary contribution to infrastructure upgrades and community facilities like roads, footpaths, drainage and community facilities such as an Aquatic Centre upgrade.
A Development Contribution Plan (DCP) is often used in regional urban growth areas where basic infrastructure are lacking, such as City of Wyndham or City of Casey, as a mechanism to levy contributions from new developments to go towards the provision of planned infrastructure required to accommodate the needs of a growing population.
In accordance with the Planning and Environment Act 1987, the State Government's Development Contributions Guidelines 2007 and associated Ministerial Directions, the types of projects that are able to be funded through a DCP must be 'capital works', which can be defined as:
A new item of infrastructure (i.e. a new childcare facility);
An upgrade to the standard of provision of an existing infrastructure asset or facility (i.e. improvements to a kindergarten to provide for 3 year old sessions);
An extension to an existing asset or facility (i.e. adding female change rooms to a pavilion); or
And the replacement of an infrastructure item after it has reached the end of its economic life (i.e. reconstruction of a road).
And the types of infrastructure projects that may be included within a DCP must be either:
Basic to health, safety or wellbeing of the community,
Or consistent with the community expectations of what is required to meet its, safety or well being,
Roads, paths, drainage, open space improvements and community facilities.
City of Stonnington are proposing this amendment because the city is experiencing significant residential, retail and commercial growth and the council believes the growth will have an impact on the city's infrastructure, placing financial burden on the Stonnington community. The proposed Development Contribution Plan aims to ensure that developers make a fair contribution to the community and offset part of the cost of the planned infrastructure work. The research data provided by the City of Stonnington identifies an extensive list of infrastructure projects based on the city's 10 Year Capital Works Program 2020/2021 that would be eligible to be funded under a Development Contribution Plan program. The proposed Development Contribution Plan does not replace the Open Space Levy, both contributions will be charged concurrently, further increasing the development costs.
According to City of Stonnington, the council have identified 197 projects within the municipality which qualify for a DCP and the amendment will allow the council to collect approximately $49.5 million of the estimated total cost of these projects (total cost is approximately $259 million). The full list of projects can be viewed in the council's Municipal Wide Development Contribution Plan 2020 incorporated document.
What developments would make a contribution under the DCP?
If the amendment is approved and gazetted, all new development proposing to increase the number of dwellings and/or increase leasable commercial, retail or industrial floor space will be required to make a proportionate contribution.
Meaning even minor developments such as a two lot residential subdivision, extension to a shop or a new mezzanine level within a warehouse will be required to pay the Development Contribution levy under the new amendment.
How much would a new development be levied?
The amount levied to a new development is calculated based on the developments' projected 'share of usage' of the planned infrastructure. The cost of an infrastructure project is apportioned to all demand units (existing development, external demands and new development). The estimated share of cost attributed to new development is approximately 19 percent of the cost of infrastructure.
The City has been divided into nine analysis areas/charging areas, based on suburb boundaries:
A demand unit is than calculated based on the development type and used as a measure in the calculation of a development contribution. To calculate a common demand unit across development types (residential, commercial, retail, industry) an equivalence ratio is used to convert the amount of existing and projected development for each type, into a proportional number of common demand units. Similar to adding together different currencies, where a formula is used to convert them into the same currency.
In the case of a demand unit, existing and proposed dwelling numbers and commercial/ industrial/retail floor space are converted into the same measure. These ratios differ depending on the nature of the infrastructure category (drainage, public realm, road, open space, community facilities) as illustrated in the table following: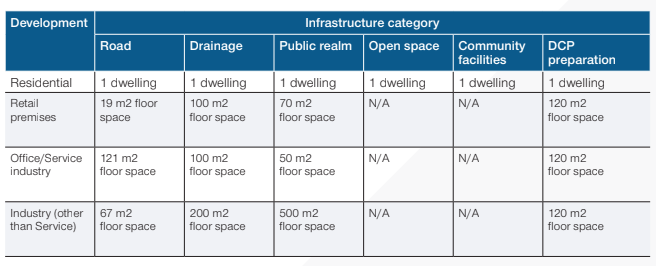 Using residential developments as an example, the charges payable per new dwelling are as following:
Using a two lot subdivision development in Malvern as an example, the Development Contribution levy payable is estimated to be as follow:
$1,210.00 of Community Infrastructure Levy
$1,995.15 of Development Infrastructure levy (Residential)
Total Levies payable – $3,205.15 per new dwelling.
If a retail shop owner in South Yarra is proposing to do a 500 sqm extension to the existing retail shop, the estimated Development Contribution Levy payable is calculated as follow:
$0 Development Infrastructure Levy (Residential)
$13,560.00 Development Infrastructure levy (retail or commercial or industrial)
Total Levies payable – $13,560.00
If a developer is seeking to do a 20 dwelling residential development with 600 sqm of retail space in Armadale, the Development Contribution levy payable is estimated to be as follow:
$24,000.00 of Community Infrastructure Levy
$39,179.60 of Development Infrastructure Levy (Residential)
$24,054.00 of Development Infrastructure Levy (retail or commercial or industrial
Total Levies payable – $87,433.60
Please note the calculations provided by City of Stonnington at this time are estimations only. The calculated contribution amounts are current as of 1 August 2020. They will be adjusted annually on 1 August each year to cover the cost of inflation and fluctuations in the cost of construction. The council has developed an estimation calculator and published on the Council's engagement platform.
Are there transitional provisions for payment of levies and when does the DCP need to need to be paid?
There are no transitional provisions for the Amendment C296ston. If Amendment C296ston is approved, levies will need to be paid from the time the amendment is gazetted.
When you lodge your planning or building application, Council will provide you with an indication of the amount that you will need to pay. Confirmation of the exact amount will be provided when the planning or subdivision permit is issued or when a building surveyor is appointed.
Payment of the Development Infrastructure levy must be made at one of the following stages:
Payment of the Community Infrastructure Levy must be made before a date of issue of a Building Permit.
Before a Statement of Compliance for a subdivision is issued
Prior to commencement of works
Before a building permit is issued
What happens if I have been issued a planning permit?
If a planning permit has been issued before the approval of the DCP, the levy will not be required to be paid. However, this does not mean the Development Contribution Levy is not required to be paid. Under the proposed amendment, the contribution will be payable if you require a building permit and it is issued after the approval of the DCP. If you amend your planning or building permit after the Development Contribution Plan is approved and gazetted, you may still be required to pay a levy or levies.
The majority of land owners will not start the build immediately after the planning permit is approved and often wait for one or two years before applying for a building permit. If the amendment is approved after your planning permit was issued but before your building permit is issued, the Development Contribution Levy will still be required to be paid.
Another trigger for the Development Contribution Levy is when a land owner applies for a subdivision permit and it is issued after the DCP has been incorporated into the Stonnington Planning Scheme.
The proposed amendment is currently on exhibition from 25 February to 31 March 2021 and is available for inspection at Stonnington City Council or online at the Department of Environment, Land, Water and Planning website at this link.
The City of Stonnington Council is also hosting two online information sessions:
Session 1 – Tuesday 16 March, 6pm to 7pm, click here to register on councils website.
Session 2 – Thursday 18 March, 12pm to 1pm, click here to register on councils website.
Any person who may be affected by the Amendment may make a submission to the planning authority. Submissions about the Amendment must be received by City of Stonnington by 31 March 2021.
A Panel Hearing for the proposed amendment is schedule to commence on the 2 of August 2021. Depending on the result of the Panel Hearing, the proposed Amendment may either require the council to make adjustments to the amendment, similar to the outcome of Monash Council proposed Amendment C148, or proceed to seek approval from the Minister of Planning. If you would like to read about Monash' proposed Amendment C148, click here.
If you are directly impacted by the proposed development contributions proposed by Council and would like to know how much you may have to pay council please give us a call to discuss your case.