An extensive report has been published into planning permit applications throughout seven councils to help improve the application process and avoid delays for developers. The Growth Area Councils Permit Assessment Health Check Report has looked at seven growth area councils to understand how they are performing when it comes to processing planning permit applications. The health check report said it will allow councils to 'make good decisions; faster.'
The report was undertaken as part of the Streamlining for Growth Program funded by the Victorian State Government and managed by the Victorian Planning Authority (VPA).
What are growth area councils?
Growth areas are municipalities that have been identified as areas intended for increased development and expansion of housing and infrastructure. Growth area planning is unlike other planning permit processes as they are primarily applications for multiple lot subdivisions. These types of projects require developers to enter into an agreement with council to provide certain public assets in order to complete the subdivision of their lots. The public assets include roads, essential services, open space, drainage infrastructure among others. This is to make sure that the area can accommodate the increase in housing and people that the subdivisions create. However developers are concerned over long approval times along with inconsistences within the seven council's processes.
The seven growth area councils in the report are: Casey, Cardinia, Hume, Melton, Mitchell, Whittlesea and Wyndham
The Report
The report gathered both qualitative and quantitative data giving a comprehensive insight and 'nuanced narrative' into how efficiently planning applications are processed throughout the councils. The report recognises how planning permits in growth areas are becoming increasing complex due to the amount of internal departments and external referrals that are involved.The report found all seven council follow the same overall structure when it comes to the planning permit process. However there were many differences in how the councils operate throughout the process. It looked at the whole planning process from pre-application all the way through to the statement of compliance and approval from council.
The Four Key Benchmarks for planning permit application.
Four key benchmarks where used to evaluate each councils strengths and weakness and see how they compare with each other.
Scale + Maturity
This benchmark looked at the scale of growth of each of the councils along with the length of time they have been a growth area council.
All the councils were found to have an increasing growth in scale. Cardinia, Mitchell are both newly emerging growth areas and along with Hume will have a big increase in growth putting pressure on these councils, with the rest continuing to grow at a steady pace. Casey and Wyndham are the most longstanding growth councils with Casey reaching its peak volumes of growth.
Communication + Culture
This benchmark looked at how councils work internally to reach planning application decisions and how they interact externally with developers.
Melton was found to have the highest level of openness and transparency both within their council and externally with developers. Hume had the lowest levels both internally and externally. Casey and Whittlesea where second highest with Cardinia, Wyndham and Mitchell coming in third.
Process
This benchmark looked at approval timeframes at different stages of the assessment process. Along with how comfortable councils are at adapting processes and accepting risk to achieve better development outcomes.
The results found Hume was the slowest at processing planning applications of all the councils along with Wyndham, Whittlesea and Mitchell all having slow approval timeframes. Cardinia had the overall best approval times with Casey and Melton being middle of the range.
Wyndham have the strictest approach to planning permit applications making them less likely to be open to different types of developments followed by Hume then Casey. Melton is the most open and adaptable but will start to become stricter due to their past flexibility being 'exploited by developers'. Cardinia is the second most open and flexible with planning applications along with Melton and Whittlesea both coming in third out of the seven councils.
Resources
This benchmark considered the resources Councils have at their disposal when processing planning permit applications. This included the number of employees and their roles within growth area departments and the current technology used by council when processing planning applications.
Melton, Whittlesea and Wyndham were found to be well resourced but both Whittlesea and Wyndham were currently working at capacity for their planning applications. Casey has a 'relatively lean team of officers' but a 'well-developed organisational structure.' Hume's small team were found to be stretched by the volume of applications and growth of the area. Cardinia was found to be a small but effective team that would benefit from more resources. Mitchell currently has the smallest growth area planning team consisting of a single statutory planner and an engineer. But as they are transitioning to a 'fully-fledged growth area council', they are investing in a bigger team of staff. Casey and Cardinia were found to be the most technologically progressive of the seven councils and Melton and Whittlesea the least.
The report also identified 5 key themes that are causing issues and delays during planning decisions throughout the seven councils which include:
Growth area planning is not a standard planning permit assessment process asdevelopers are delivering public assets which make them more complex to assess
There is a disconnect in expectations between the development industry and Council
Lack of space for genuine negotiation and compromise between council and developers.
Technology barriers at organisational level during the application process
Skills and expertise shortage in councils
There are seven stages of a growth area planning permit application which include:
Pre-application
Referrals and Further information
Permit assessment
Certification
Plan approvals
Statement of compliance
Key areas of planning application delays were identified as the 'Referrals and Further Information' and 'Planning Approvals' stages as: "These stages require consultation with and negotiation between a range of internal and external parties before arriving at a decision."
Action Plans
A general action plan was created for all seven councils along with individual actions plans for each of them. These include clearly outlined objectives that are to be met along with measures of their success.
"The action plans developed for each council seek to address the causes of these delays, by improving transparency, clarifying roles and expectations of various parties, and building a greater sense of trust between councils and the development industry. Some actions are best undertaken as a collective of growth area councils, whilst others are best undertaken by the individual council," said the report.
Two actions have been chosen by each council as a priority from their biggest weakness identified by the four benchmarks. These can be seen below and were taken from the full report which can be found here.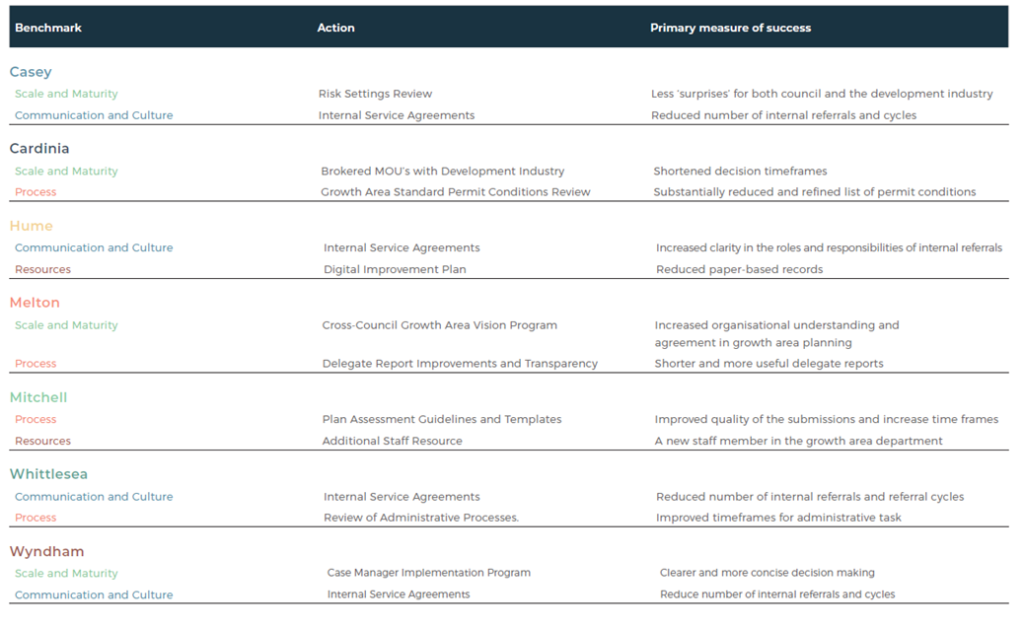 What does this mean for planning permit applications?
This report along with the action plans it has produced will no doubt create more transparency and cohesion within the councils and with developers during the application process. It is an extensive report which, if the action plans are followed, will help developers and council achieve better outcomes and faster application times for planning permit application in these growth areas.